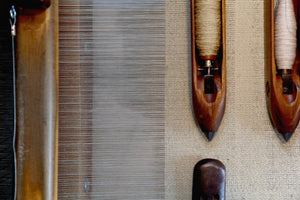 CANCELLATION & REFUND POLICY
We are a happy and friendly Myposhaakh tribe striving hard to give you a delightful experience.
Please note that our team at Myposhaakh works tirelessly to provide you the best of the Sustainable fashion quality products at affordable prices. We suggest it's important if you go through the points mentioned below before you plan to exchange or return any of our products:
NOTE FOR RETURN & EXCHANGE :
1. All the products at Myposhaakh are exclusively handmade by artisans, craftsmen, weavers and tribal women based out of remote craft clusters in India. Hence the irregularity in stitches, colours and prints that you notice are not errors but a confirmation of the authenticity of your products being handmade and not machine made.
2. Differences in colours might be the result of the technical variations and the colour settings on all the different screens could vary (computer monitors, tablets and mobile devices). Thus the colour of the product that you see online might slightly differ from what it looks to be offline. We do our best efforts to share the closest real and natural pictures of all our products.
3. The weather conditions plays a critical and important role in the making of hand block prints and natural dyes. Thus a slight variation in the prints and colours may happen depending on the prevalent weather conditions at that point of time and we don't consider these variations as defects.
4. A slight weaving inconsistencies or small holes in fabric is an intricate part of  handmade process and cannot be considered as defects.
5. It is important that you keenly read the product descriptions before placing an order.
The team at myposhaakh provides a simple, convenient and hassle-free exchange and return policy. We would be more than happy to help in the case of an exchange or return of the products as per the details mentioned below.
Important points:
* The items should be unused and unwashed for hygiene reasons.
* The product should have the original packaging and tags in place. Items without the original tags will not be accepted.
* Sarees with fall and edging would not be accepted for return or exchange.
* Customised products cannot be returned or exchanged
* Return/Exchange request that are not raised within5 days of receiving the product would not be accepted.
* Alterations would be done only once for the blouses or customised orders, if needed. If you need any further alterations, the alteration and courier charges would have to be borne by the customer.
* Products bought during sale are non-refundable 
Domestic Orders:
Cancellation Policy :
1. In case there is an order cancellation, please do so before it is shipped. Once the order shipped we can't accept the cancellation request. Please note payment gateway charges (3-5%) will be deducted if a refund is required.
Return Policy :
1. If you have received the product in a bad condition or if the packaging is tampered with, please refuse the package. Mail us at myposhaakh@gmail.com mentioning your Order ID. The replacement will be issued to you with no additional cost. 
2. Shipping and COD charges are non refundable
3. If you receive any defective product, do contact us immediately by mailing us at myposhaakh@gmail.com  your Order ID and send us a snapshot of the defect. We will either provide you a credit note or refund the amount of the product.
4. If you have to cancel an order, please do so before your order is shipped
5. If  you cancel your order before it has been shipped, we will refund the entire amount
6. The shipping charges for sending the products back has to be borne by the customer
7. Once we have received the products a quality check would be done by our team
8. The amount refunded to you would be only for the products not the shipping charges. 
9. We unfortunately do not have an exchange policy for international customers.
10. We can't accept returns on the basis of slight color variation and minor weaving defect and printing defect because these are natural due to human involvement.
11. If you find any damaged parcel then please don't accept from courier agent and immediately return that parcel In this case only we accept returns.
Exchange Policy:
1. Exchange of a product is not possible once it shipped from our end.
International Orders:
1. If unfortunately you have to cancel an order, please do so before your order is shipped.
2. We do not have an exchange policy for international customers .
3. We ship the order after strict quality check, in case you received any damage product then immediate send the pictures on myposhaakh@gmail.com so raise a request of refund or return.