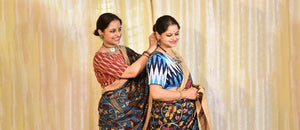 Welcome to myposhaakh…
"The Journey of "Myposhaakh" began in June 2020 by two sisters. Pooja, a textile engineer, has always been fascinated by handlooms and crafts since her college days, while Dr. Divya is a lover of handlooms and handcrafted items. They both enjoy discussing the craft and craftspeople. During the first COVID lockdown, when they visited their mom's place, they started thinking about making their love for crafts a way to help artisans. They wanted the younger generation to feel a connection with age-old crafts and experience the emotions and stories behind each handmade piece. They often say, 'There is a story behind each and every product, narrated by the dreams and emotions of the craftspeople. Feel that emotion with "Myposhaakh".'
The brand "Myposhaakh" works directly with artists and weavers, creating fresh and unique designs rooted in age-old crafts from different states of India.
 "Myposhaakh" celebrates handmade, ethical, and sustainable fashion.
How are we different?
 We celebrate age-old crafts and strive to promote arts that have lost their identity. We work directly with 40-50 artists and weavers from all over India, focusing on more ethical and sustainable practices. We take one step at a time, working on age-old crafts of hand painting performed all over India.
Get to know Pooja and Divya:
You mostly see Divya and Pooja on the website, but Dr. Divya is the financial backbone of this brand, while Pooja handles marketing and planning. Dr. Divya earned her BDS from KGMC, Lucknow, and Pooja pursued textile engineering from GCTI, Kanpur. We love this journey because, through this brand, we connect with people from all over the world and feel they are like our extended family.
Our vision:
We started this brand to work with artists and craftsmen, making a small but impactful change in their lives, and representing the age-old crafts of India on national and international platforms. This journey is not easy for us as a homegrown brand; we juggle every possible role ourselves. However, the motivation of our clients and the happy faces of our craftspeople always drive us to contribute to a better world to the best of our abilities.
Our mission:
The next five years will be challenging for us as a brand, as we strive to stabilize ourselves and fulfill our vision. We aim to add more artists and weavers in the upcoming years, creating a platform to enhance and promote their work. We also focus on methods that have a positive impact on the environment, such as plastic-free packaging, material recycling, and the use of chemical-free dyes.
Contact us:
B1-K18/21, opposite More Super Market,
galaxy blue sapphire, sector-4, Greater Noida West,U.P.
Pincode: 201307
Phone: 8448450245/8126446375